The Big Bethel Baptist Church
Organized 1865
Our Pastor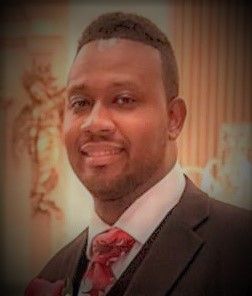 Reverend Alexander Williams
Pastor
"When I'm tired of the load that I must bare You let me know that You're still there Because You're my strength for my weakness Your my words when I'm speechless God, give me faith to see where You're taking me So even when I'm afraid, I still believe Please listen to the pain in prayer Let me know You're paying attention and you care While I'm on this journey, I need you to help me, help me, help me to finish well And I know I'll be alright if you help me, help me, help me to finish well"
"Tamela Mann"
Warm Greetings!
As we embark upon the New Year 2022, we are still dealing with the Pandemic; however, we know the world is going through also, and I believe that this did not catch God by surprise. I do not know about you, but perhaps there was a sense of hope last year entering into 2021. That we would turn the page on 2020, and COVID-19 would all be behind us within a few months. Nevertheless, that is not the case despite man's best efforts of masks, vaccines, and mandates!
While humanity can only do what we can in our strength, I want to remind you today that God is still on the Throne regardless of where we have been or where we are going! I can testify that God has kept us in the midst of it all! He continues to be a way maker, miracle worker, a promise keeper, and our light in the dark-ness. The Pandemic caused us to suspend in-person worship; however, we were blessed to stay connected locally and abroad via Teleconference because of our faithfulness to the God we serve. Upon re-entering the sanctuary on June 13, 2021, we launched our first-ever Live Streaming Services accessible via the church website: (www.thebigbethelbaptistchurch10.com). A special thanks go out to Mr. Joseph Johnson III for his willingness to serve as our media person so that you could experience the power and the move of God from the sanctuary on the 2nd and 4th Sunday. Even though God allowed us to enter back into the sanctuary, our hearts were saddened as we had several faithful members fall asleep in the arms of the Lord. Due to the CDC guidelines, many could not grieve and celebrate their loved ones. However, the good news is that the Word of God declares in 2nd Corinthians 5:8, "to be absent from the body is to be present with the Lord." Big Bethel Baptist Church will celebrate soon, remembering all members who have transitioned to be with the Lord. More information to follow. Let us remember those close to us who have moved from labor to reward:
Deacon Robert L. Blackwell
Minister Sarah Blackwell (Bell)
Taliyah Carey
Ada Beatrice Gilliam (Goodwyn)
Raymond Mills, Jr.
Lady Roberts
Mary Roberts
Bettie Spinner
Larry Thompson
On a more personal note, on behalf of my family and me, we genuinely thank you for your support and prayers during the transition-ing of our mother, Mrs. Lady Grandison Roberts. It made our grieving process just a little easier to know we had others who genuine-ly cared standing with us.
As always, I bless God for each of you. Big Bethel Baptist Church could not and would not be where we are without you. It is because of your great sacrifices and faithfulness to Christ and your church that our doors remain open in 2021. In this hour, my prayer for you is that you lack nothing and that God will supply all of your needs and desires.
As you know, we were constrained inside to what we could do concerning ministry, but outside of the four walls, we have been able to be a blessing and source of strength to many. We were blessed to give to the Red Cross to help those affected by the natural disasters and families less fortunate during the Christmas Holiday. We partnered with area churches to feed the homeless for Thanksgiving. Great things are on the horizon for us in 2022. Phase II of our church project is still our goal; once we get back to some sense of nor-malcy, we will complete it. Let us continue to walk by faith, believing God for what we cannot see.
In closing, I invite you to still worship with us each Sunday via Teleconference. (1-978-990-5466 - Access Code 509229) at Noon. Also, I encourage you to mail in your monetary contribution to P. O Box 1 McKenney, VA, 23872. I also strongly encourage you to get vaccinated, receive your booster shot, and take a Covid-19 test so that you can protect yourself, your family, and your community. As we move forward, remember that one of Jesus's names is Emmanuel, which means "God is with us." Lastly, a copy of our calendar is enclosed. It's our prayers that you will share with us at every possible opportunity. I hope to see you soon!
Because of Calvary,
Reverend Alexander L. Williams, Pastor