The Big Bethel Baptist Church
Organized 1865
Our Pastor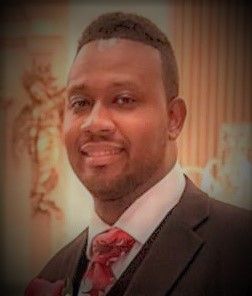 Reverend Alexander Williams
Pastor
"God held me together, so many wonder how I survived I can't say it was easy, but I'm still alive, God never left me, He stayed by my side And I am so grateful He kept me, God held me together, made sure that I didn't lose my mind Through all my struggles, disappointments too, you were there I can't even tell you all I've been through, the times I was down and didn't know what to do I almost gave up but the Lord came and He rescued me, God held me together"
~ Zacardi Cortez~
Grace and Peace be unto you my Father's Children. I would like to wish each of you a Happy New Year! I pray that 2021 has a better start than the ending of 2020. I must say, 2020 was a journey and a real test of our faith. It was full of much uncertainty with our lives being turned upside down and inside out. Even with all that we endured, we still gave God all the glory, honor, and praise because we were still standing and made it to see another year.
If we would be honest, we were excited about 2020, declaring that it would be our year, and we all made many plans, but little did we know that GOD had other plans for our lives. COVID-19 put a damper on everything; having to wear masks everywhere, social distancing, not attending church, virtual learning, so much unrest in our nation, and the list goes on and on. I must say that we as a church, have stood tall and strong. As your Pastor, I was so inspired and heart filled to witness each of you keeping it together as we worked the WORD of GOD in our lives as the world around us was falling apart.
Even though our normal everyday worship experience was disrupted by not being able to assemble ourselves in the house of the Lord, we never missed a beat. We quickly realized that another means for worship was necessary. After much prayer, God showed us the way. We were able to gather through the telephone. In March, we held our first ever worship service via teleconferencing on Sundays at noon. This outlet allowed us to observe regular worship services, meetings, and our Annual Revival with special guest speakers Reverend Barry Brown and Reverend John Philips. We also celebrated our 155th Church Anniversary as we were blessed with a powerful word from Reverend Lamont Hobbs along with recording artist Psalmist Tiffany Andrews. Another noteworthy occasion was my 12th Pastoral Anniversary with Reverend John Fox delivering the word. These events were great sources of strength and encouragement for our members and many of our families and friends who join us on Sundays.
As we continue to seek the Lord and to adjust to our "new normal," I have good news for you. Great things are waiting for us in 2021. Yes, 2020 was a setup for 2021; God had to test us to see if we took heed to the Apostle Paul's teaching "Therefore, my beloved brethren, be ye steadfast, unmovable, always abounding in the work of the Lord, forasmuch as ye know that your labor is not in vain in the Lord." I know some of you may be asking how you can say that, Pastor, when things still seem the same? There is a thing called 20/20 vision. 20/20 vision is used to express normal visual acuity (the clarity or sharpness of vision). 20/20 is "perfect vision" because no aids are required to see better.
Granted, 2020 has placed many obstacles in our way to cause us to lose our sight and our faith, but God had to allow these things to happen to reset our vision. Many of you can testify that "now I know HIM for myself through experience." You got to know GOD in a better way by enduring the blurred vision and the struggles of 2020. You didn't lose sight of what was important, but you kept serving and trusting God. Therefore, for your faithfulness, God made you a promise for 2021. "But the God of all grace, who hath called us unto his eternal glory by Christ Jesus, after that ye have suffered a while, make you perfect, establish, strengthen, settle you. To him be glory and dominion forever and ever."
As I close my message, I want to encourage you to keep to the faith, keep a clear view of HIM, and always pray. Know that prayer is the key, and faith unlocks the door. Just remember, "Greater is Coming."
Lastly, a copy of our calendar is enclosed. It's our prayers that you will share with us at every possible opportunity. On Sundays, please join us for worship via Teleconference Line at 1-978-990-5466 and enter access code 509229.