The Big Bethel Baptist Church
Organized 1865
Church Update 2020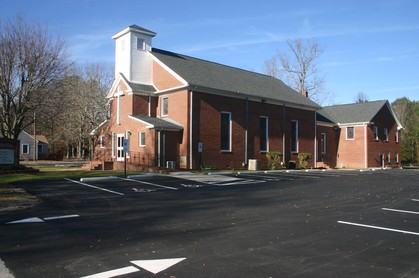 We are not ashamed of the Gospel Roman 1:16
Services
Sunday School - 9:30 A.M.
Praise & Worship - 10:45 A.M.
Morning Worship - 11:00 A.M.
(There is no 5th Sunday Services)
Big Bethel Baptist web site is designed to keep you as faithful members informed of
what we are doing at the church, in the community, and abroad. Log in often to see what's going on!
10110 Marguerita Ragsdale St - McKenney, VA 23872
Please address all mail correspondence to P.O. Box 1, Mckenney, VA 23872
(804) 478-4518 - E-mail: bbbc1@verizon.net
Enjoy Your Visit
**IT'S NOT ABOUT WAITING UNTIL THE STORM PASSES BUT LEARNING TO DANCE IN THE RAIN**
Watch for all new features on our web site - Coming Soon!!
ANNOUNCEMENTS
•

Black Lives Matter

---

•

Special Update

All Worship services and special programs

have been canceled due to Cova-19

Since we can't come together right now as a church body, Big Bethel is maintaining its worship connection via Teleconferencing

Phone in and join us every chance you get!!

---

•

Congratulations Jessica & Imani

Each of them are being awarded the

Big Bethel Baptist Memorial Scholarship

The Pastor, Official Boards and members of Big Bethel Baptist Church would like to congratulate these two young ladies for achieving academic excellence during the 2020 school year. Jessica Christina Jones (left) is the daugther of Ms Pamela Sharpe and is very active in the BBBC youth ministry. She will be attending Virginia Commonwealth University in the fall. Imani Renee Lacy (right) is the daugther of Jennifer Everett. She too is very active in the BBBC youth ministry. Imani will be attending John Tyler in the fall.

Way to Go Ladies!!

---

•

Words of Encouragement

"I am the vine and you are the branches. Those who remain in me, and I in them, will bear much fruit: for you can do nothing without me. Those who do not remain in me are thrown out like a branch and dry up; such branches are gathered up and thrown into the fire, where they are burned. If you remain in me and my words remain in you, then you will ask for anything you wish, and you shall have it. My Father's glory is shown by you bearing much fruit; and in this way you become my disciples. I love you just as the Father loves me; remain in my love."

St. John 15:5-9 (Good News Translation)

---

•

2020 Fund Raiser

Annual Fund Raiser – Through Christ, everything is Possible!

Submitted by Trustee Larry Goodwyn

Our 2019 fund raiser generated to date $14,800.00. Once again, we really did an amazing job. Pastor Williams and the Official Boards are very proud of this accomplishment. Without your support, it wouldn't have been possible to execute and complete phase I of our renovation projects. If you recall, mid-year we as a body of believers put our shoulders to the wall and pushed through rehabbing our basement fellowship area. This all began with some self-help projects by church members, followed by professional painters and flooring contractors and culminated with the efforts of a few dedicated church members to put everything back and add finishing touches to make things beautiful and pleasing for all as we celebrated the 154th anniversary of the church.

With your financial support and prayers, early in the 2020 calendar year, we will begin phase II of our renovation projects. Our goal moving forward will be to add exterior sidewalk covers connecting our side door points of egress to our basement points of entry.

The Pastor and the project planners would like to thank all those who continue to bless this branch of Zion with their generous support. Our theme for 2020 is yet to be determined, but we do know we'll continue to give back $1.00 per day for each day that God has blessed us with. Our goal this year is $10,000.00.

---

•

Cemetery Rally

Big Bethel Burial Park

Submitted By: Carol Jones

The Cemetery is a particular part of our church ministry. Upkeep and maintenance of the grounds and surrounding acres are a significant part of our budget. We want to thank all members and families who contributed to our 2019 cemetery rally. Our rally will take place on the 4th Sunday, March 22, 2020, during the regular worship service.

Anyone with a loved one buried in the Cemetery, we are asking that you, please be a blessing to this rally with a donation of your choice. We will continue to take care o our Cemetery correctly, and we pray God's continued blessings on all of you.

---

•

KEEP DRIVING

A lady was driving along with her father.
They came upon a storm, and the young lady asked her father, What should I do?"

He said "keep driving".. Cars began to pull over to the side, the storm was getting worse.

"What should I do." The young lady asked?
"Keep driving," her father replied.

On up a few feet, she noticed that eighteen wheelers were also pulling over. She told her dad, "I must pull over, I can barely see ahead. It is terrible, and everyone is pulling over!"

Her father told her, "Don't give up, just keep driving!"

Now the storm was terrible, but she never stopped driving, and soon she could see a little more clearly. After a couple of miles she was again on dry land, and the sun came out.

Her father said, "Now you can pull over and get out."

She said "But why now?"

He said "When you get out, look back at all the people that gave up and are still in the storm,
because you never gave up your storm is now over.

This is a testimony for anyone who is going through "hard times".

Just because everyone else, even the strongest, gives up.
You don't have to...if you keep going,
soon your storm will be over and the sun will shine upon your face again.

Never give up, because GOD will never give up on you!

"I can do all things through Christ, who strengthens me!"

---